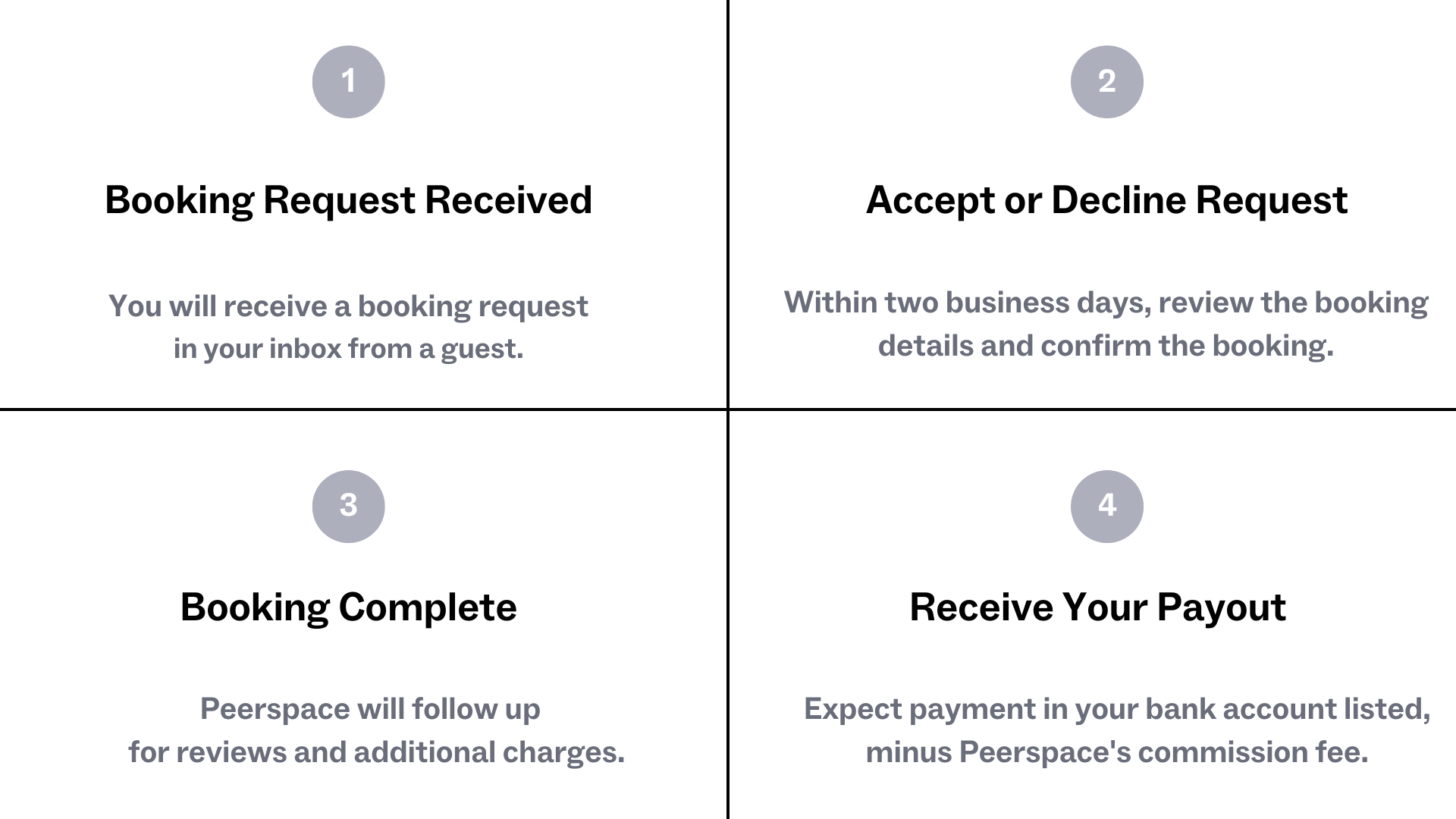 When a guest sends you a booking request, you will receive an email or text notification detailing the booking and expected payout.
From the time you receive the request, you will have two business days to accept or decline it from your Peerspace account. If neither action is taken, the request will expire.
Accepting a request confirms the booking and charges the guest in full. Declining the request releases the authorization hold on the guest's card. Make sure you are familiar with our cancellation policy and payment process.
Host payouts will be deposited into the bank account they have on file with us via ACH transfer (direct deposit) and are processed within 7 days after the end of the reservation. Payouts for additional charges and overtime submitted within 72 hours after the event's conclusion are typically deposited into your account separately from your booking payout. Learn more here.
Important: Hosts should act on every booking request rather than letting any expire, as expired bookings negatively impact your response rate. If you need more information before taking action, we encourage you to directly message the guest.
What if I need to make changes to the booking request?
If you and the guest agree on any pricing for the booking that differs from your space's listed hourly rate (weekend rates, non-profit discounts, additional equipment rentals, etc.), you can use the invite-to-book feature for the guest to review and approve. Guests will have seven business days to accept or decline the invitation to book.

Remember, listings must be fully transparent with regard to any costs for booking your space. Use the About the Space section to clearly detail any pricing variations, such as full-day rates, discounts, weekend rates, or rates for large-scope bookings. Please keep in mind Peerspace's service fee for hosts and processing fee for guests when quoting a price to your guest.
For a summary of the fees related to Peerspace bookings, please review our Fees Overview.
If you have any concerns about a specific inquiry, please don't hesitate to get in touch by clicking here.