Each space can have up to 3 listings, one for each booking type (production, events, meetings). At the time of review, one listing may meet all the requirements whereas another listing needs additional updates. Here are the general requirements for each listing: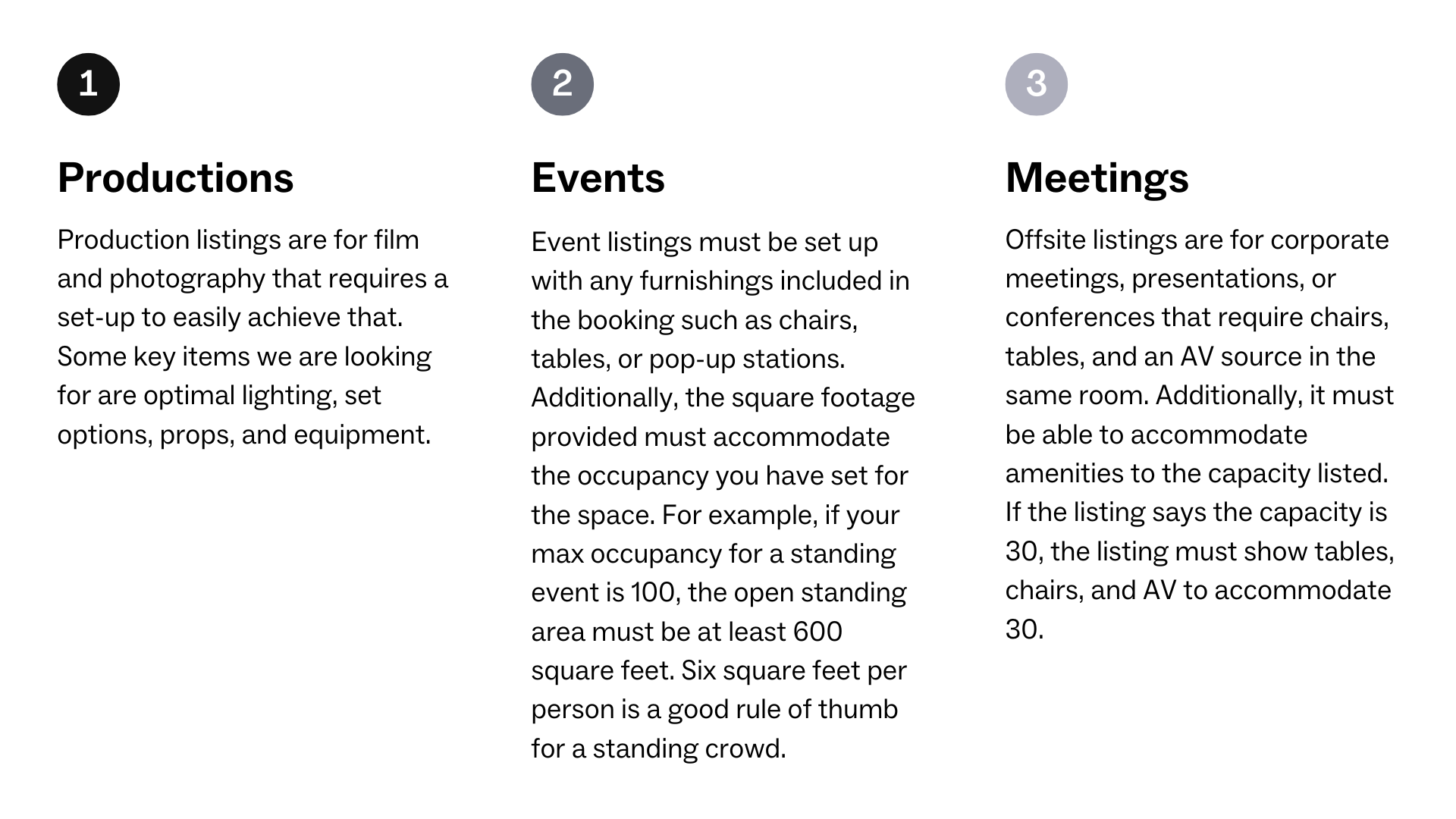 If your listing needs additional updates, you will receive an email from hosts@peerspace.com, where you'll be prompted to submit the changes needed in order to go live.
Once you have completed the requested updates for each listing, please resubmit your space by clicking "resubmit space" in [mylistings tab] or clicking "resubmit space" in the email sent by our onboarding team.
You will receive an email from team@peerspace.com once a listing has been activated.
Here are some common delays in getting your listing(s) activated:
Phone verification- verify your phone number here.
Account verification- verify your account and set up your direct deposit here.
Profile requirements- make sure to provide a full legal first and last name in your account. Business names or logos as your account name, profile, or in the title, description, or photos of your listings are not permitted.
Photo requirements - Photos submitted must match the location provided and show the requirements needed to list for events, meetings, or productions. A minimum of 4 high-quality photos are required for each listing. Low-quality, blurry, dark, or inappropriate images will not be accepted.
Meeting listing Requirements - Offsite listings must include amenities: tables, chairs, WiFi, A/V equipment and listing photos must show proper set-up based on occupancy listed (meeting space for 20 must show tables, chairs, AV equipment set up for 20 people in photos).
Event Listing Requirements- Event listings must be able to accommodate a minimum of 10 guests (300 sq. ft. min). Condos and apartments cannot list their space for events. The square footage must accommodate the occupancy you have set for the space. The listing photos must showcase the space as an event space. The space must include a restroom.
Check out our requirements to go live for more information.