If you have a listing in the United States and need to enter a US Bank account, click here.
New Host: Adding Bank Account
Hosts are able to add their Canadian bank account by going to the Payment Methods section of their Peerspace account.
Under Direct Deposit please click "Get Started"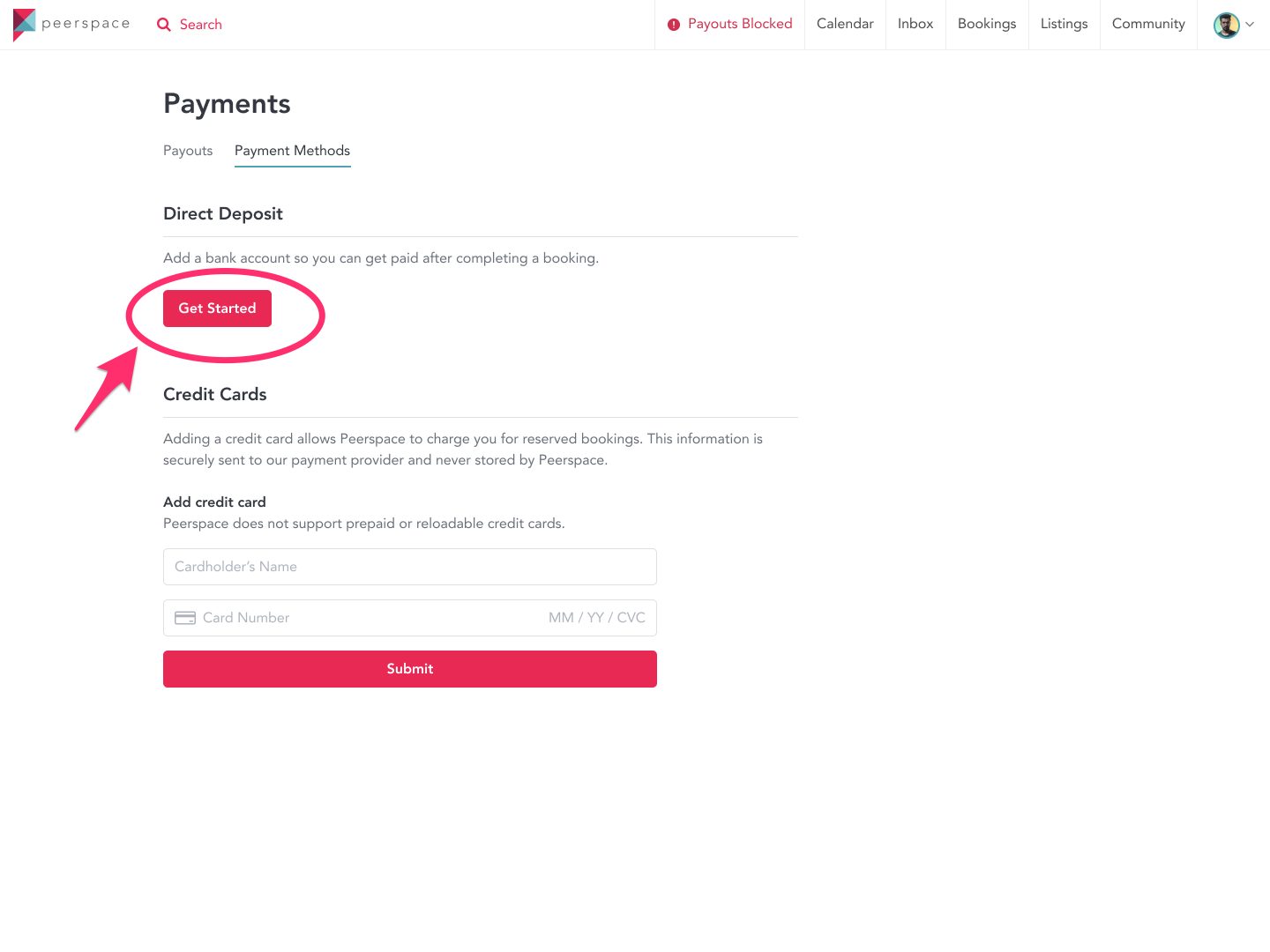 First, you'll need to verify your account through our payment provider, Stripe. Click the "Start Verification" button and you'll be taken to their secure site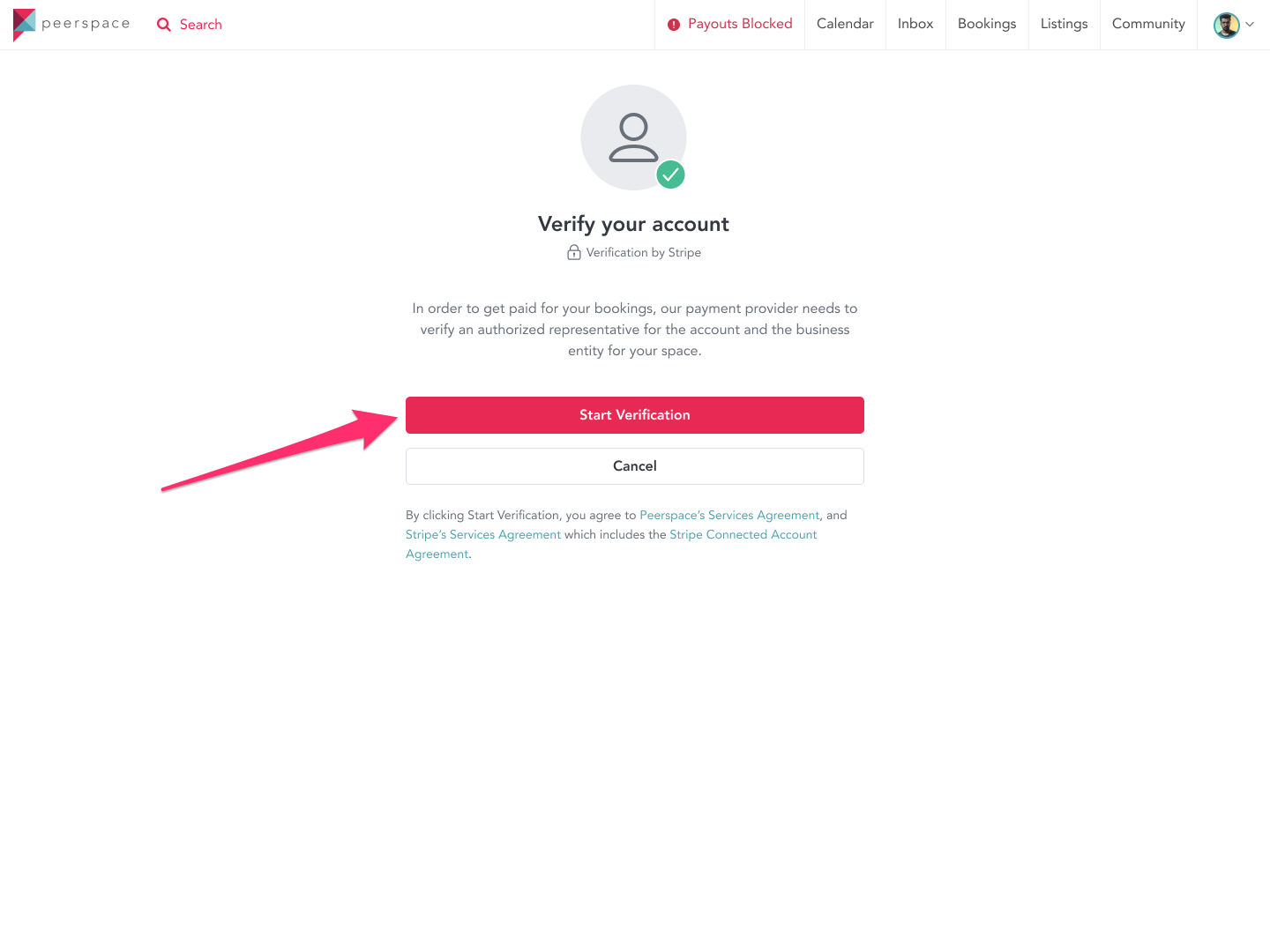 Select your type of business (Individual, Company, or Nonprofit) and click "Next"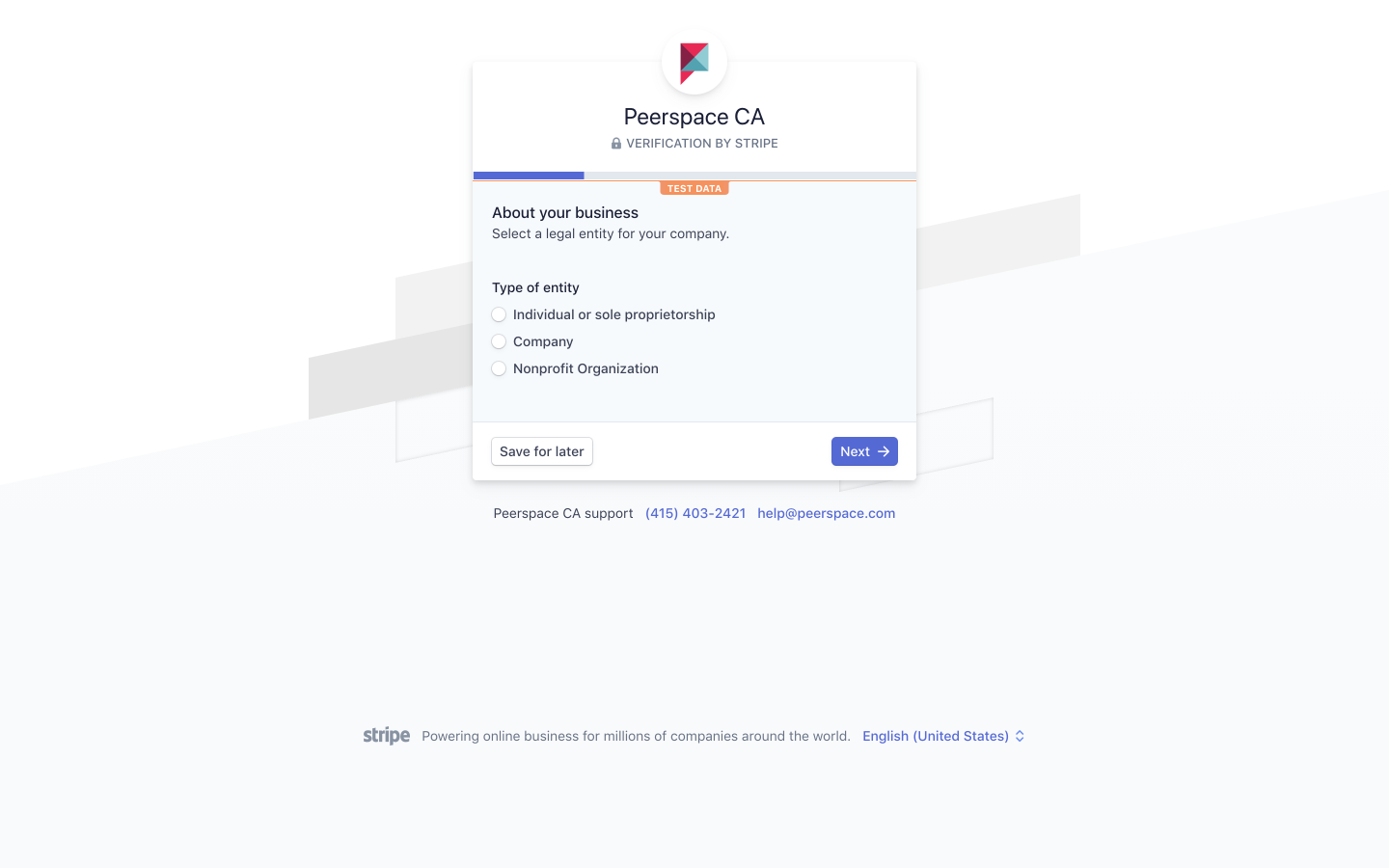 Enter the details of the account representative and business (if applicable)

If registering as a Business entity please provide the Business Name, 9 digit Business Number and registered business address exactly how it appears on CRA documents

If registering as an Individual, please enter your 9 digit Social Insurance Number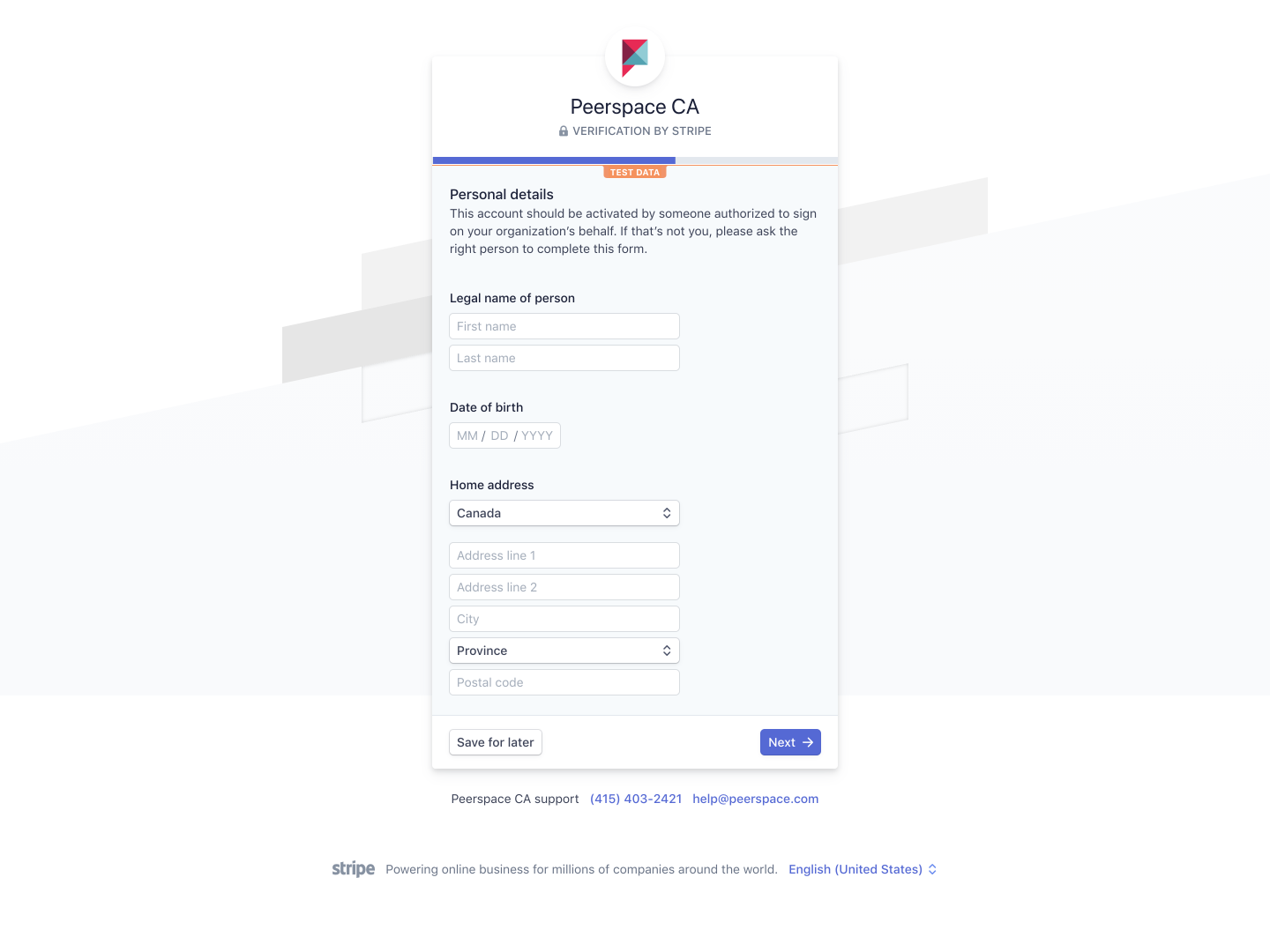 Click "Next"

Review the summary of your account representative and click "Submit"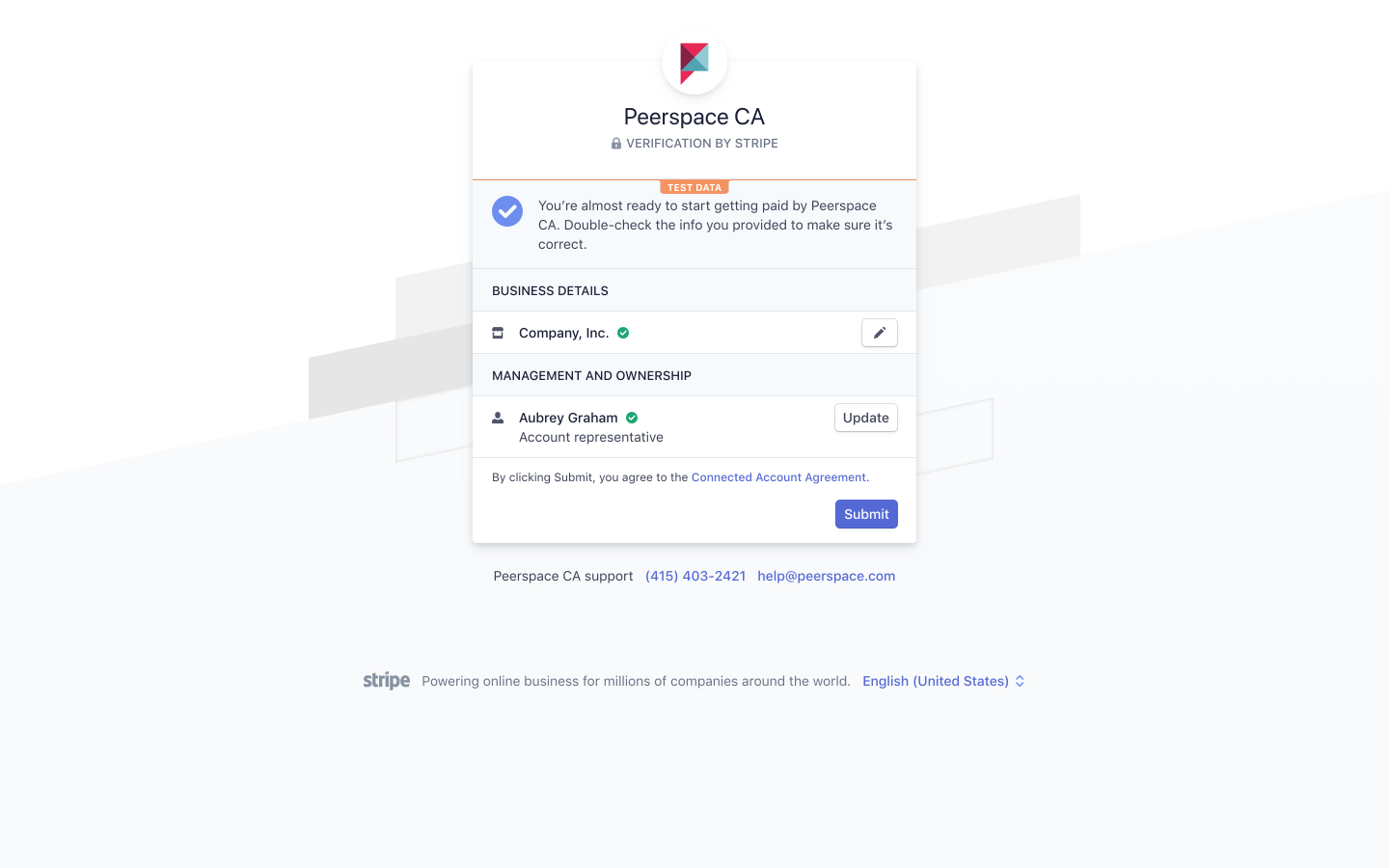 After clicking "Submit," you can add your bank account information

Instructions to locate bank info are at the bottom of this page under

"How do I find my institution and/or transit number?"

Your bank account must be in the same country as the space you listed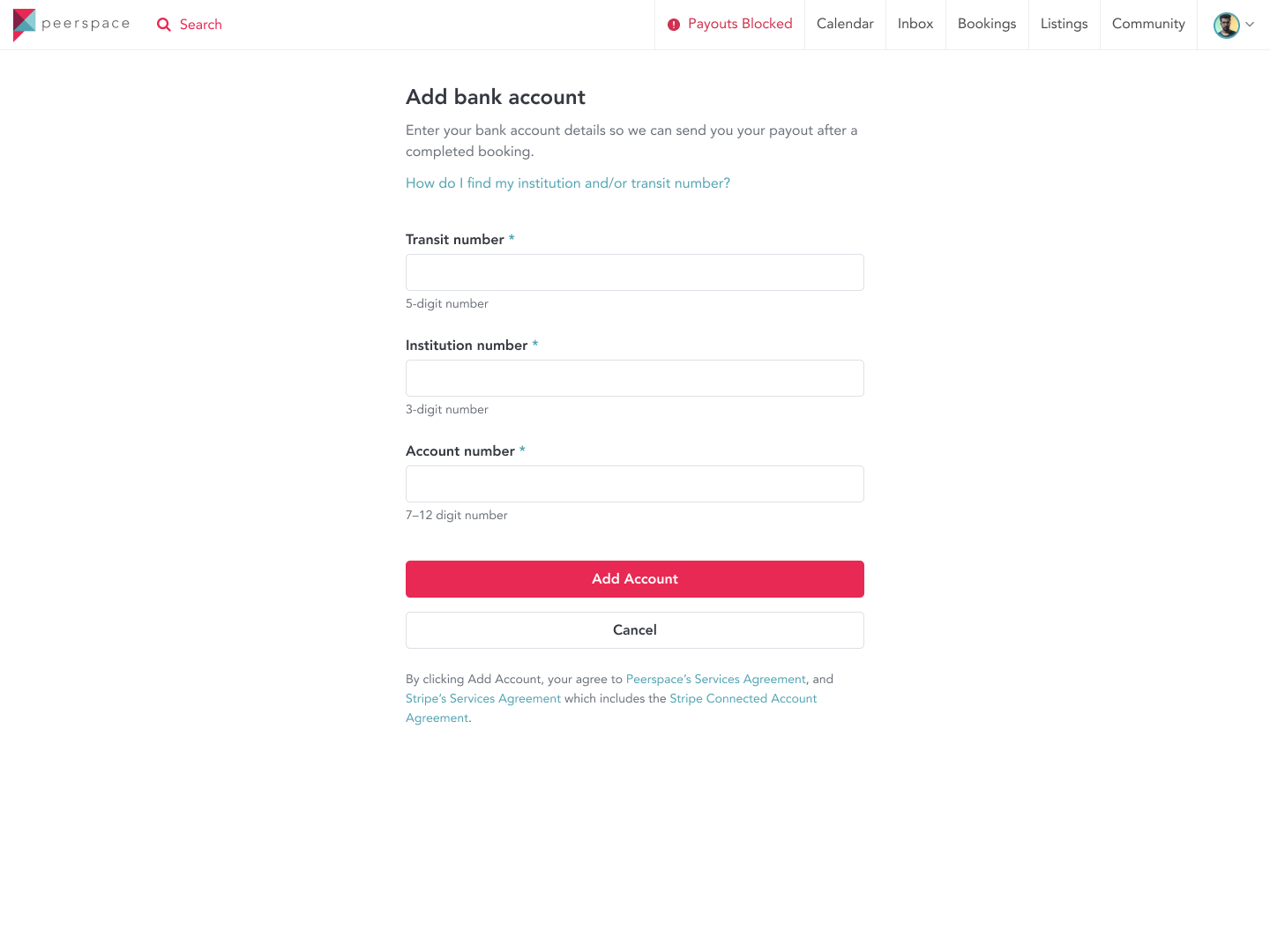 Click "Add Account"

Once your account is verified, it will appear in your Payments Method section with a green check mark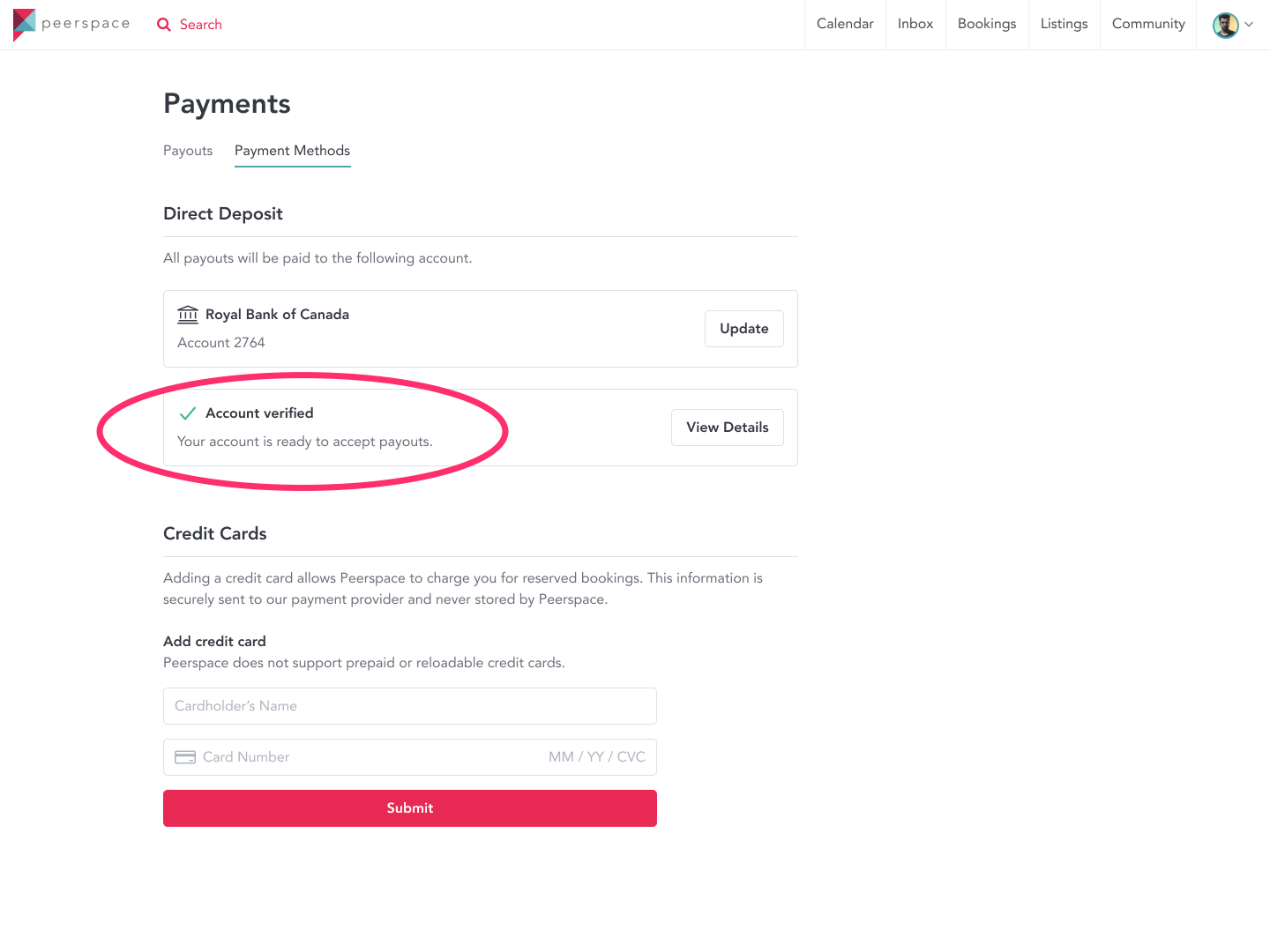 If the verification fails, an alert sign will appear prompting you to check your information and re-submit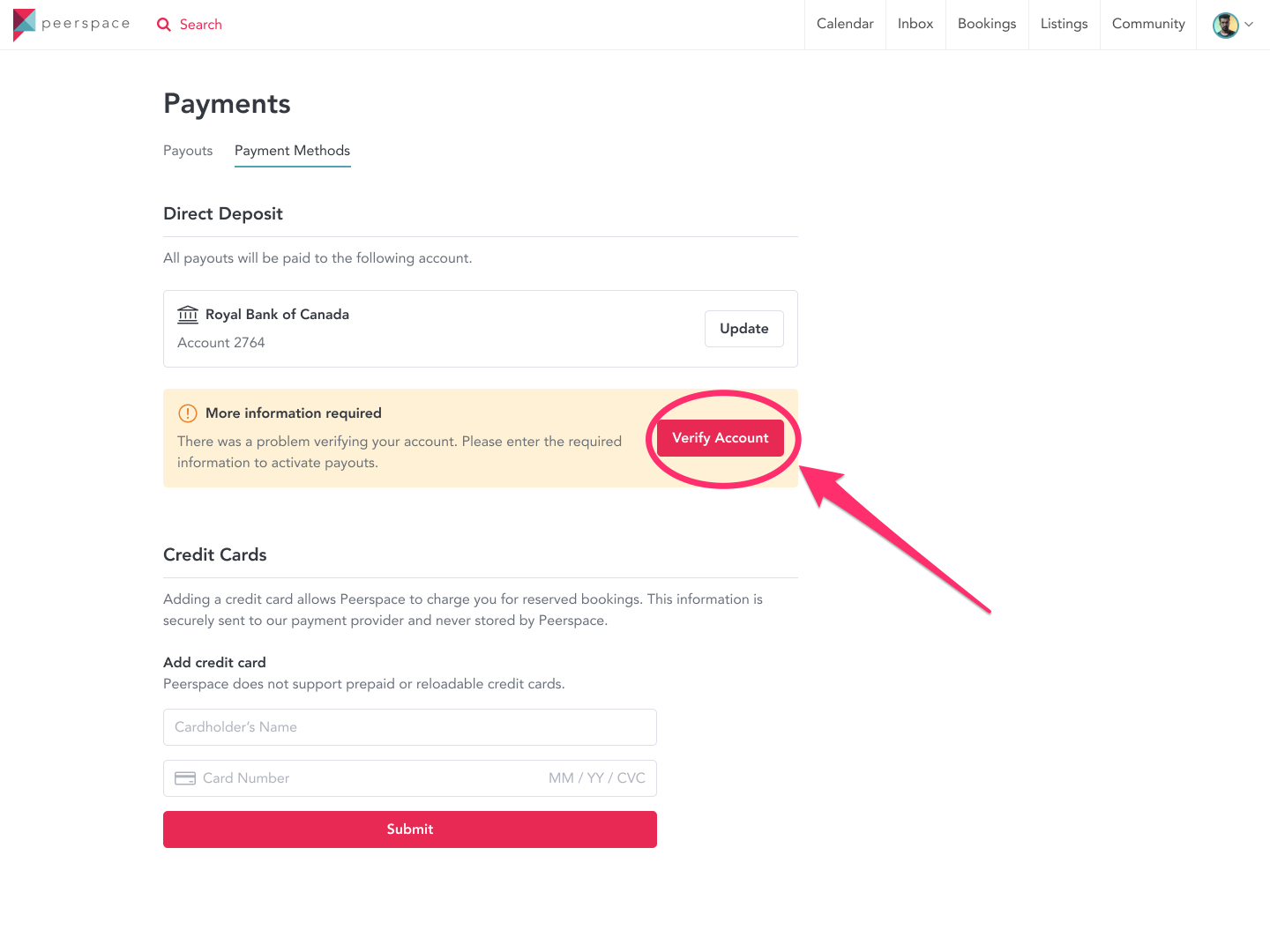 Current Host: Updating Bank Account
Hosts are able to change their bank account by going to the Payment Methods section of their Peerspace account.
Under "Direct Deposit", click the "Update" button next to your bank account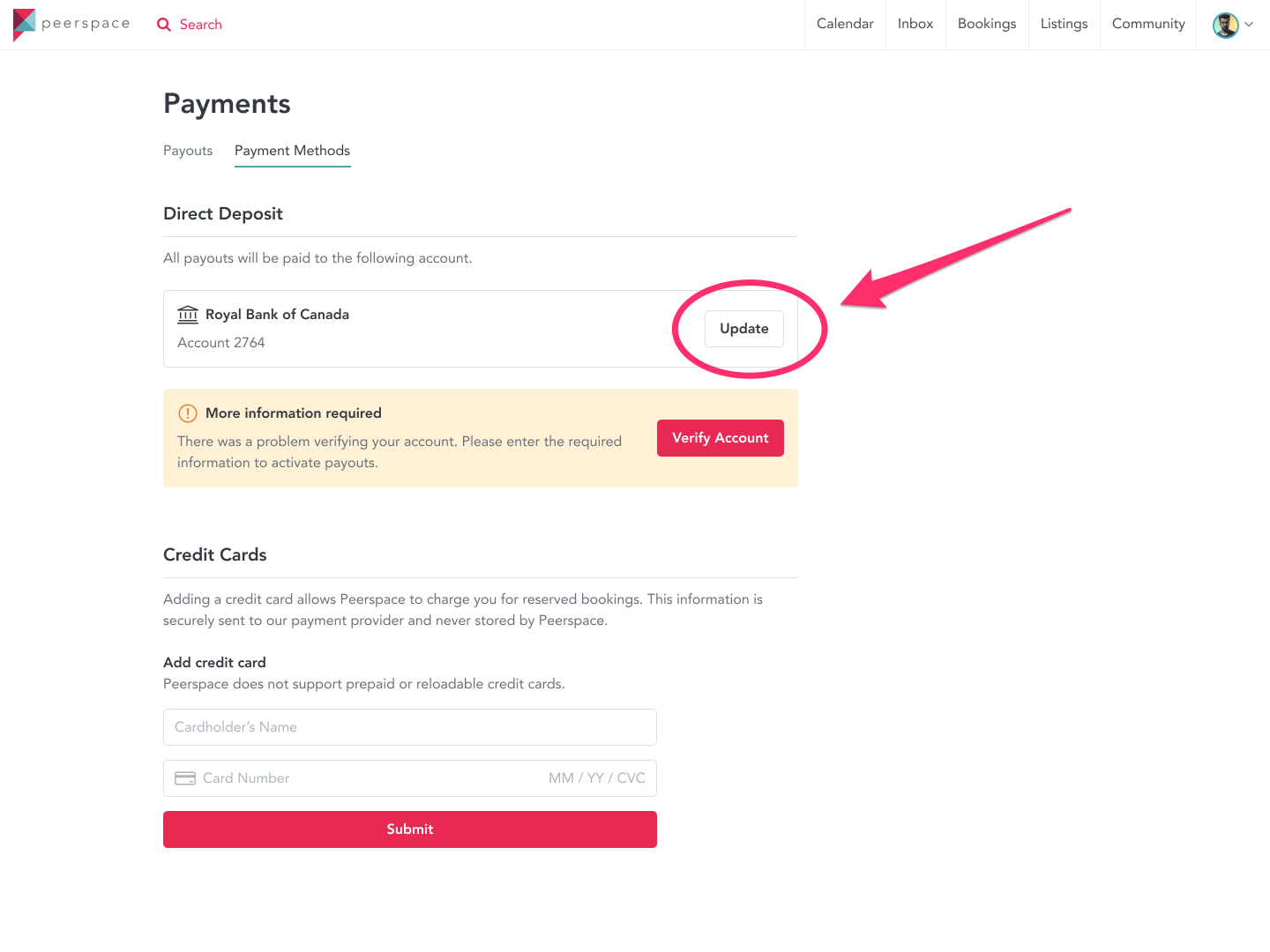 You'll be taken to a form where you can enter your bank account details. Then click "Add Account"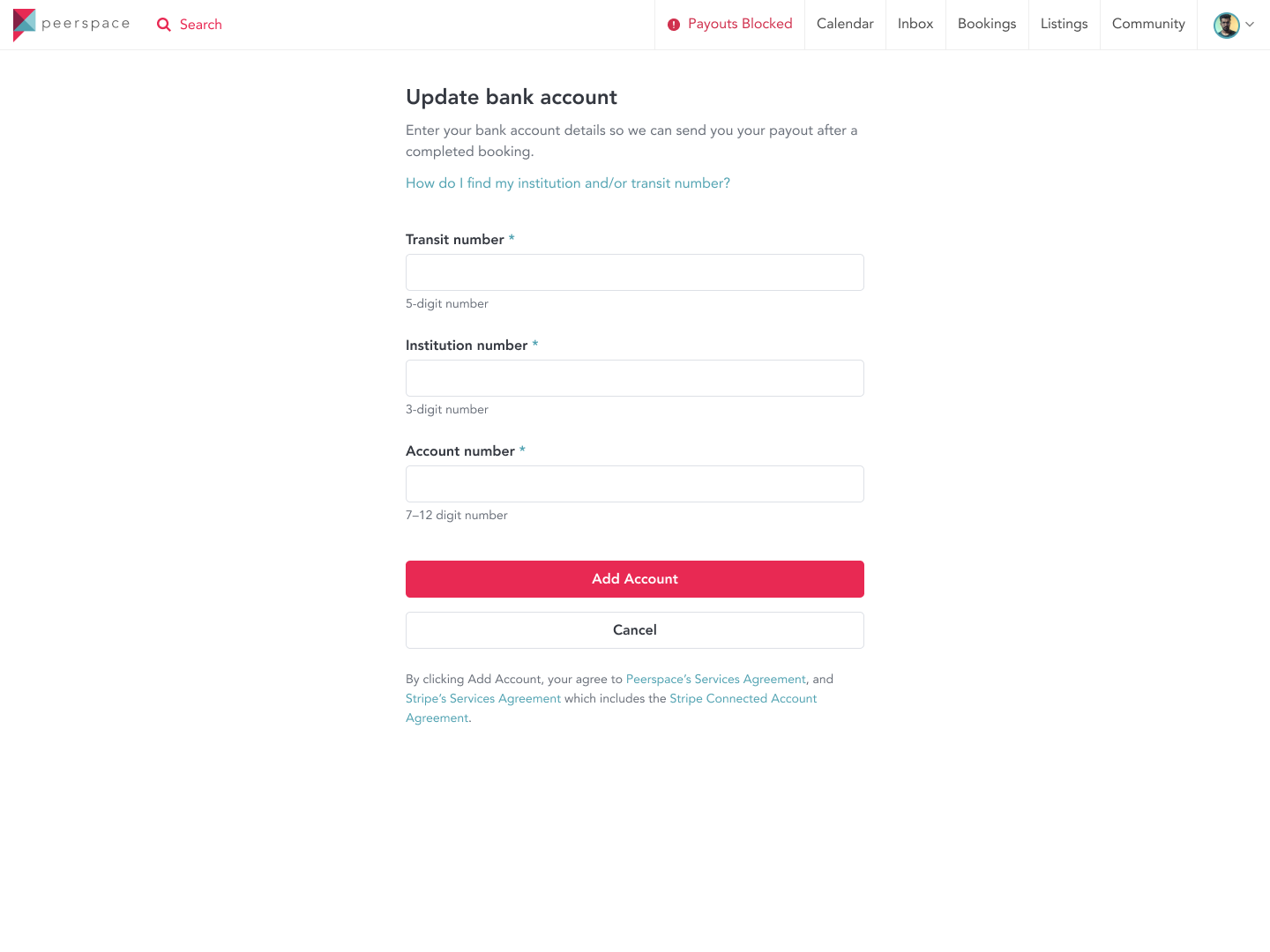 If your account needs additional verification please click "Verify Account" and follow the prompts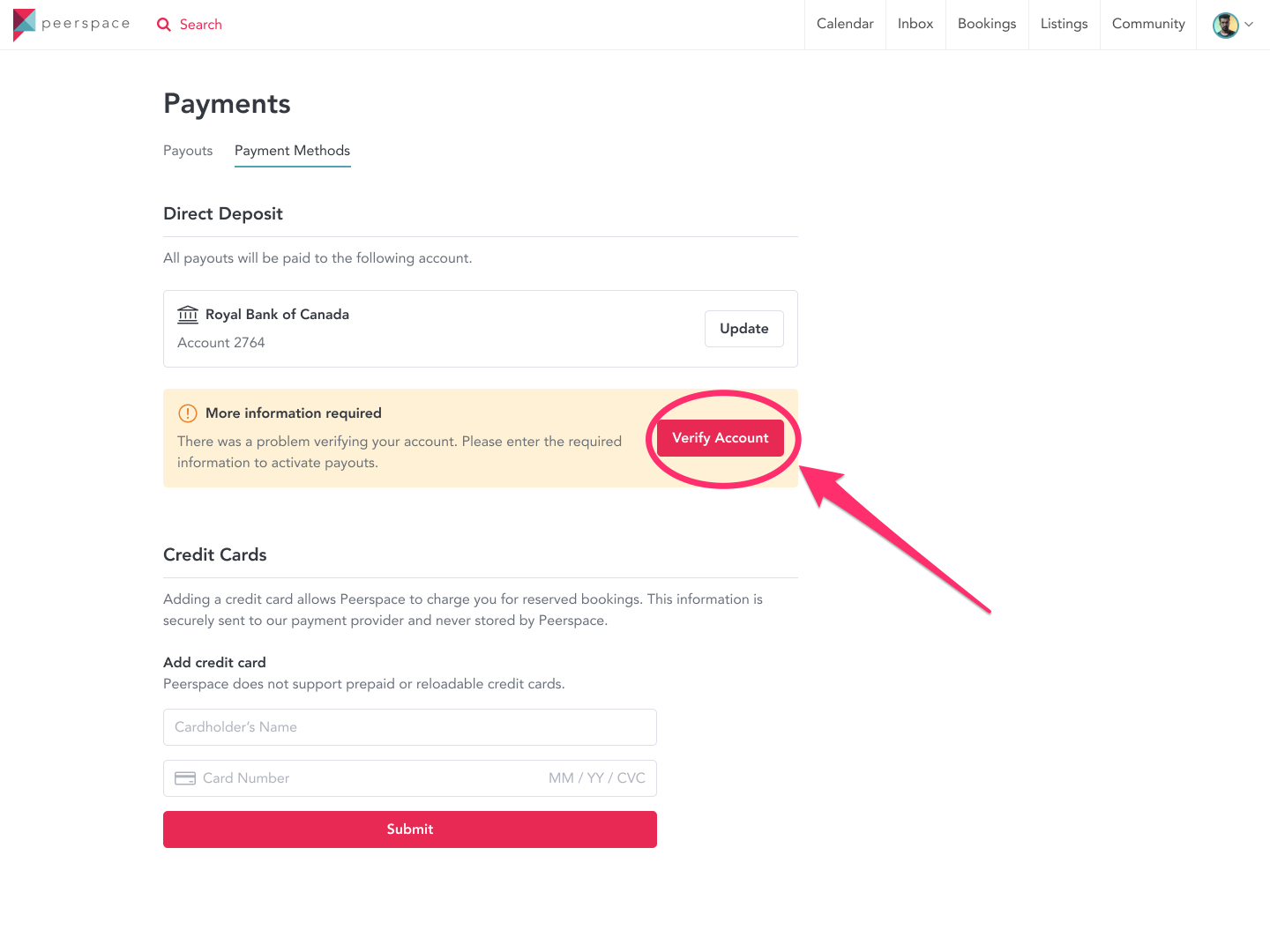 You can always view past payouts and which account they were issued to here.
How do I find my institution and/or transit number?
When you send money to and from a Canadian bank account, you will need to have three account details at hand: Financial Institution number (3 digits), Branch Transit Number (5 digits), and Account Number (7-12 digits).
Here are a couple options to help you find this information:
Option 1: Check the bottom of your checkbook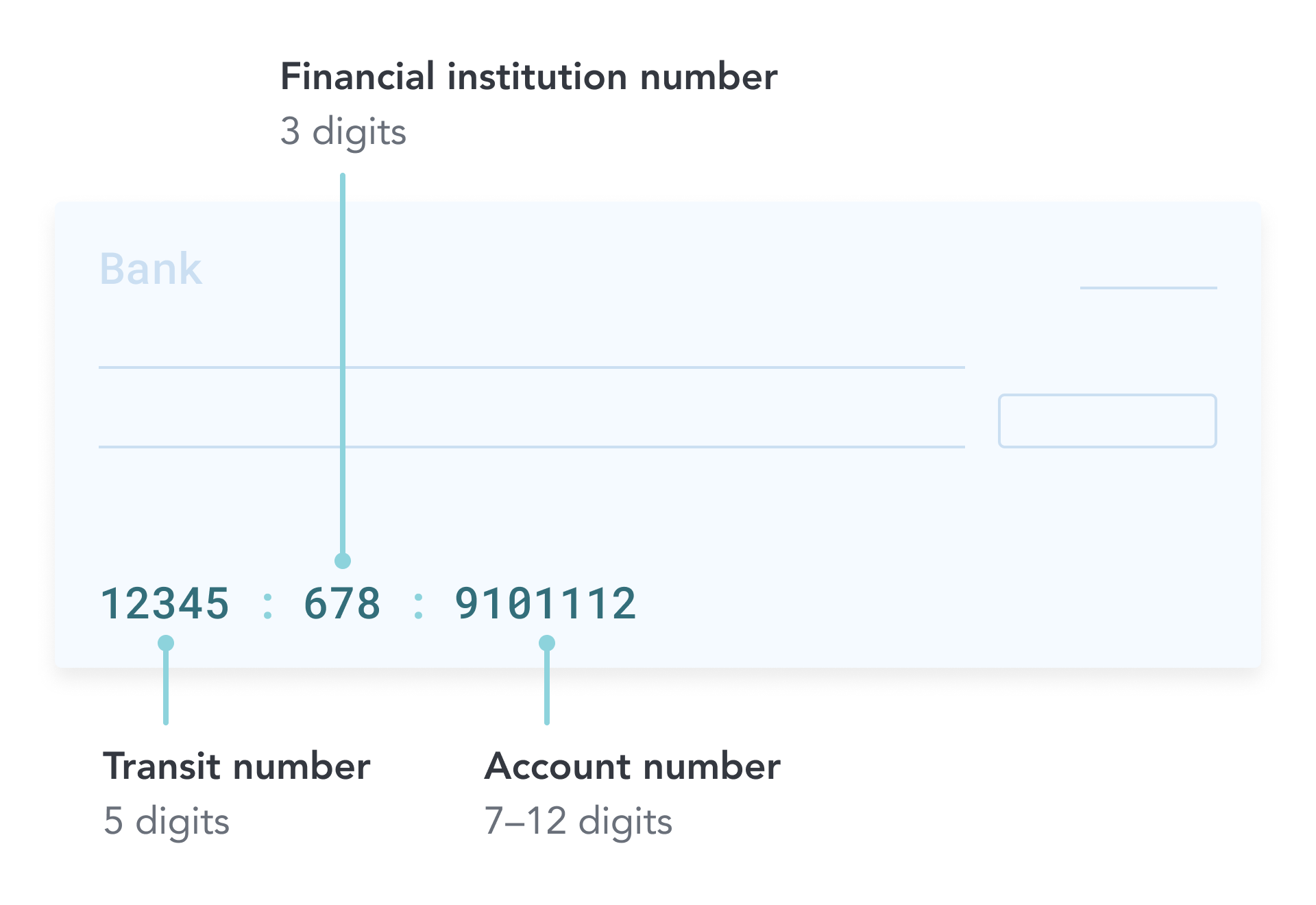 Option 2: Log in to your internet banking
Option 3: Find the Institution number in the list below
http://canada-banks-info.com/routing-numbers
Please note: These numbers are accurate to the best of our knowledge, but if you are unsure it is always best to check with your bank. These numbers should only be used to confirm details you already have.
Option 4: Locate your routing number.
Routing number format: 0YYYXXXXX
YYY - institution number
XXXXX - transit number
For example, if the Bank's routing number is 011122334, the institution number is 111, and the transit number is 22334.