Thousands of people visit Peerspace every day to find their next unique space to host a production, event, meeting, or party. Your listing can speak volumes about your space through high-res images and helpful descriptions, but our top-performing hosts know that it pays to go above and beyond to promote their Peerspace listings in new and creative ways.
If you're not sure where to start to increase traffic to your listing and drive more bookings, reference this host's guide to marketing. These are tried-and-true tactics straight from our Power Hosts, who earn a special title and badge by providing an exceptional experience for their guests. Power Hosts receive excellent reviews, respond quickly, and get a lot of bookings—in other words, they're pros at marketing their spaces.
Learn how to leverage multiple channels to create as much buzz as possible and increase your earnings. The more effort you put in up front to drive early bookings, the better.
1. Consider a launch strategy
Consider having a marketing strategy in place before your first listing even goes live on Peerspace. You've put a lot of work into making your space beautiful and getting it ready for others—so you'll want to spread the word ASAP.
Think of all the resources at your disposal and make a plan to engage your existing network. Do you have social channels dedicated to sharing alluring photos of your space? Do you already have a personal or professional website where you can add a link to your listing? What about simply family and friends who can help spread the word? Announcing your launch in a group chat can go a long way.
We'll dive into more specifics of effective channels ahead, but getting ahead with a plan is a good place to start.
2. Don't underestimate the power of social media
You may think it's obvious to share your Peerspace listing online, but the most successful Power Hosts know how to tailor their posts to each social network.
Instagram: Share beautiful photos, tag @Peerspace, and add a link to your bio.
Instagram is one of the most worthwhile places to spend your marketing time and energy. As a mostly visual platform, it's the perfect channel for you to share as many photos as possible; try posting one photo per day or every other day after you launch, plus share behind-the-scenes of your launch in Stories.
When sharing in your feed, tag us @Peerspace and don't forget the hashtag #madeinpeerspace. With nearly 10,000 photos on the hashtag, this is a great way to boost your visibility. Get inspired from the examples below.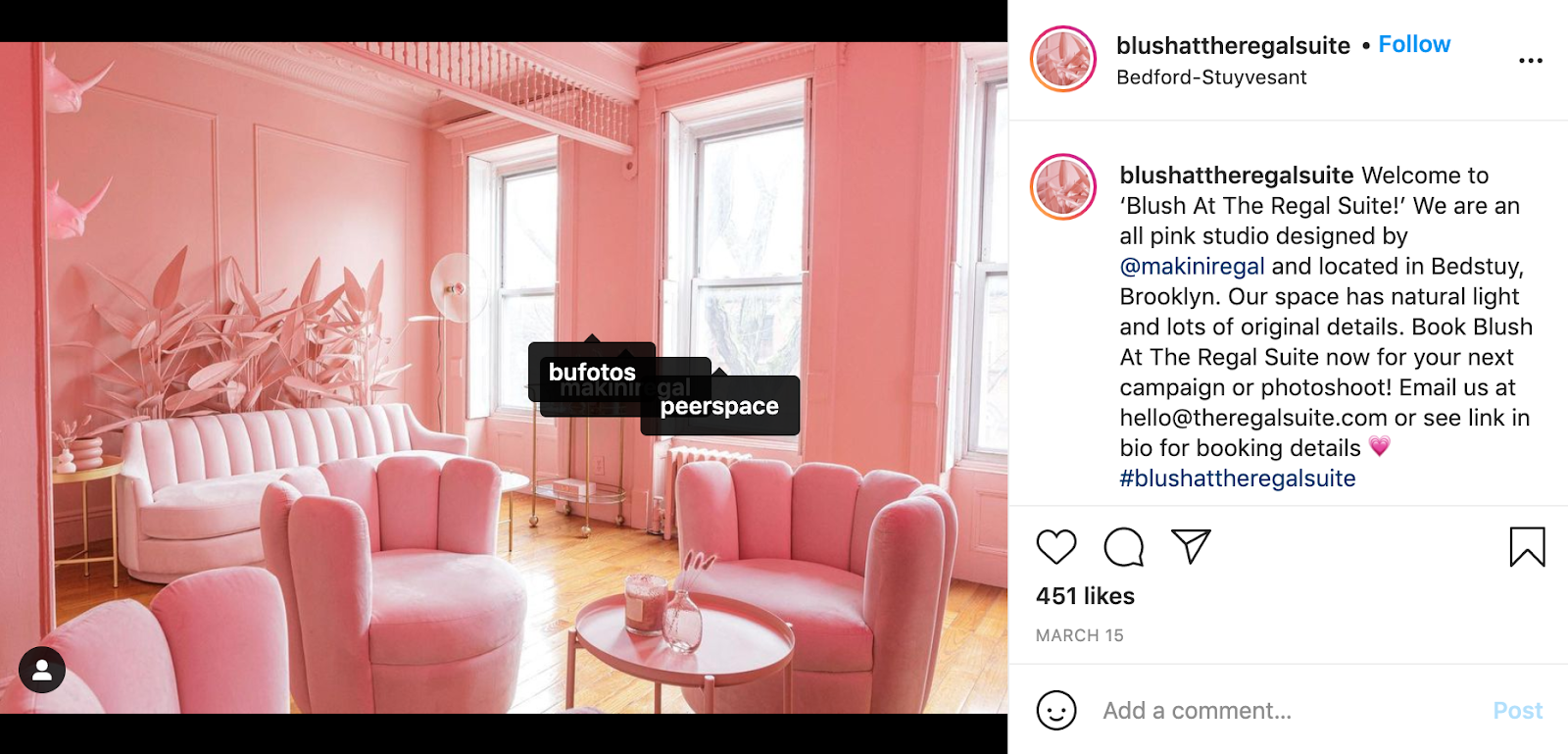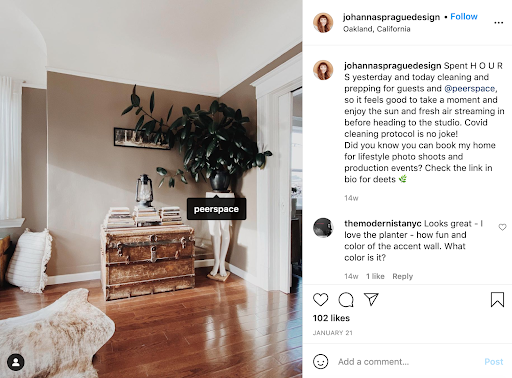 Last but not least, take advantage of the common phrase "link in bio." With direct access to your listing, your Instagram followers are more likely to book instead of searching for your space on their own. You've got a few options. Simply add your Peerspace URL to your bio, use a Linktree to easily manage multiple links, or swipe up to your listing via Stories if you have at least 10K followers or your account is verified with a check mark.
Twitter: Link to your space and include relevant keywords.
Twitter's character limit is 280, so you can't be as lengthy in your descriptions, but it's still a helpful channel for marketing your listing. Include multiple photos in one tweet for optimal impact, and tag @Peerspace—you never know who will be searching for Peerspace listings, and this keyword can help.
Post occasionally, and include keywords about what your space is best suited for: corporate events, creative photo shoots, podcast recording, etc.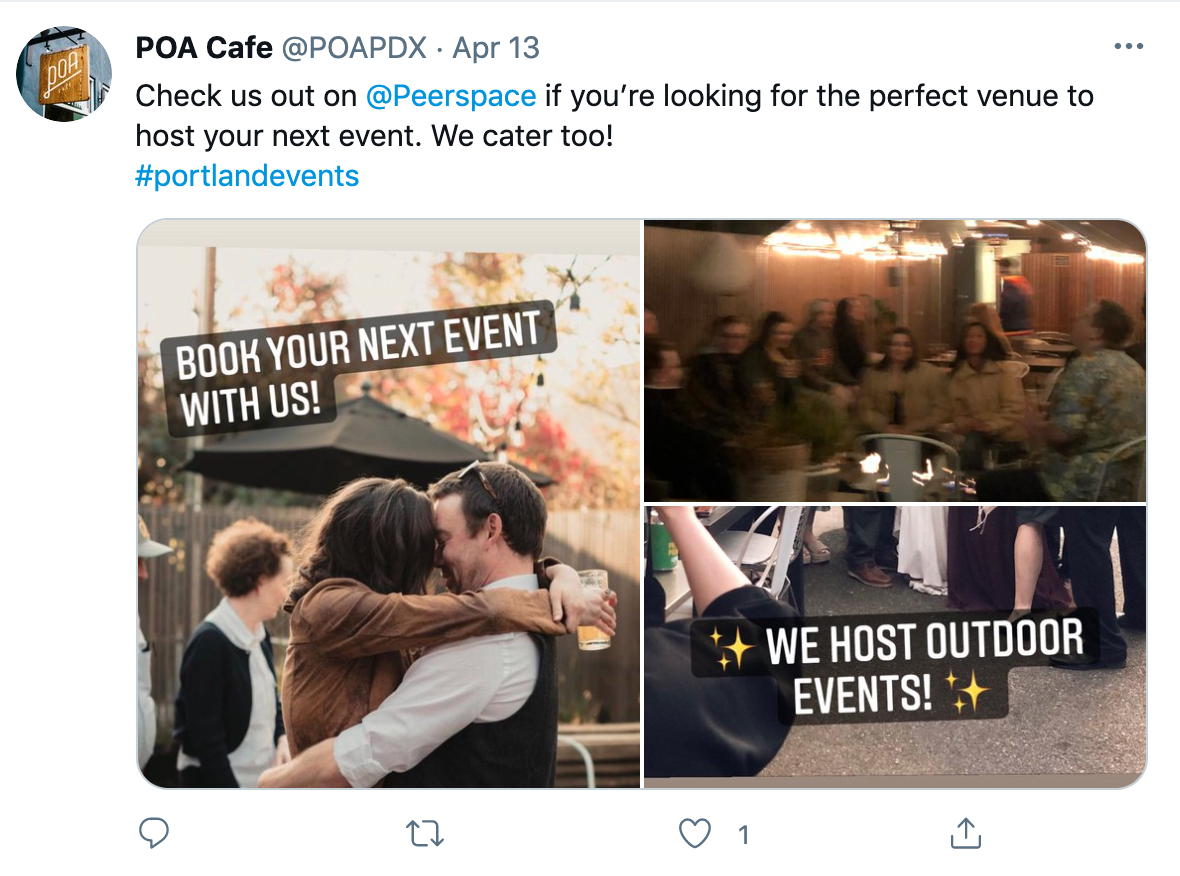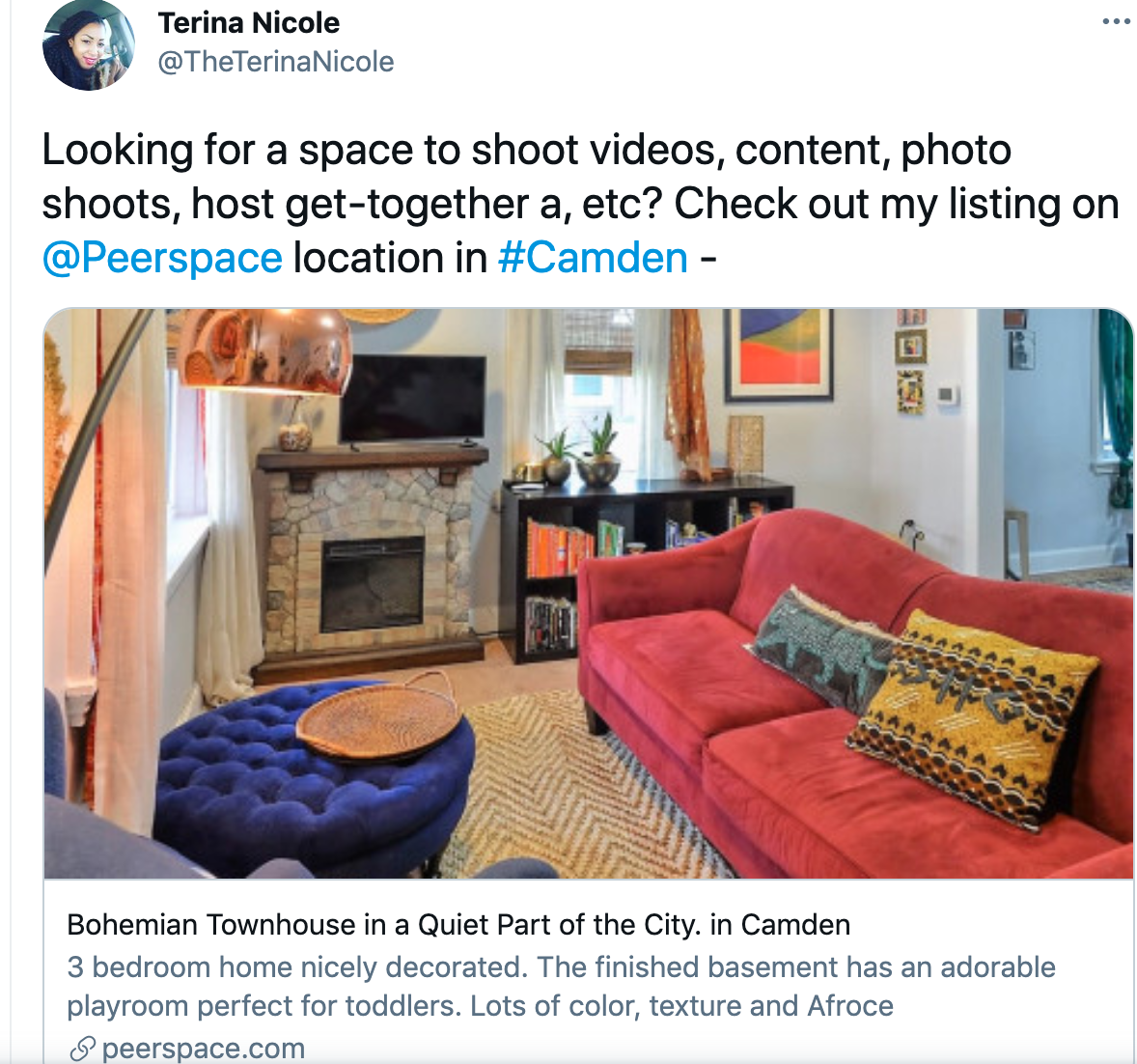 Facebook: Make your posts shareable so others can spread the word.
Don't forget to tap into your Facebook network. While your Facebook followers likely include friends, family, and professional acquaintances, you can expand your reach by making posts shareable. To do this, tap the three dots in the upper right corner of your post, select "edit privacy," and tap "public" to allow anyone to share a post about your listing. This allows people in your network to share with their networks.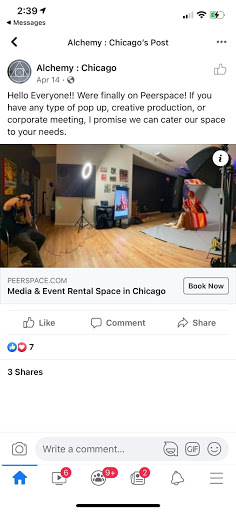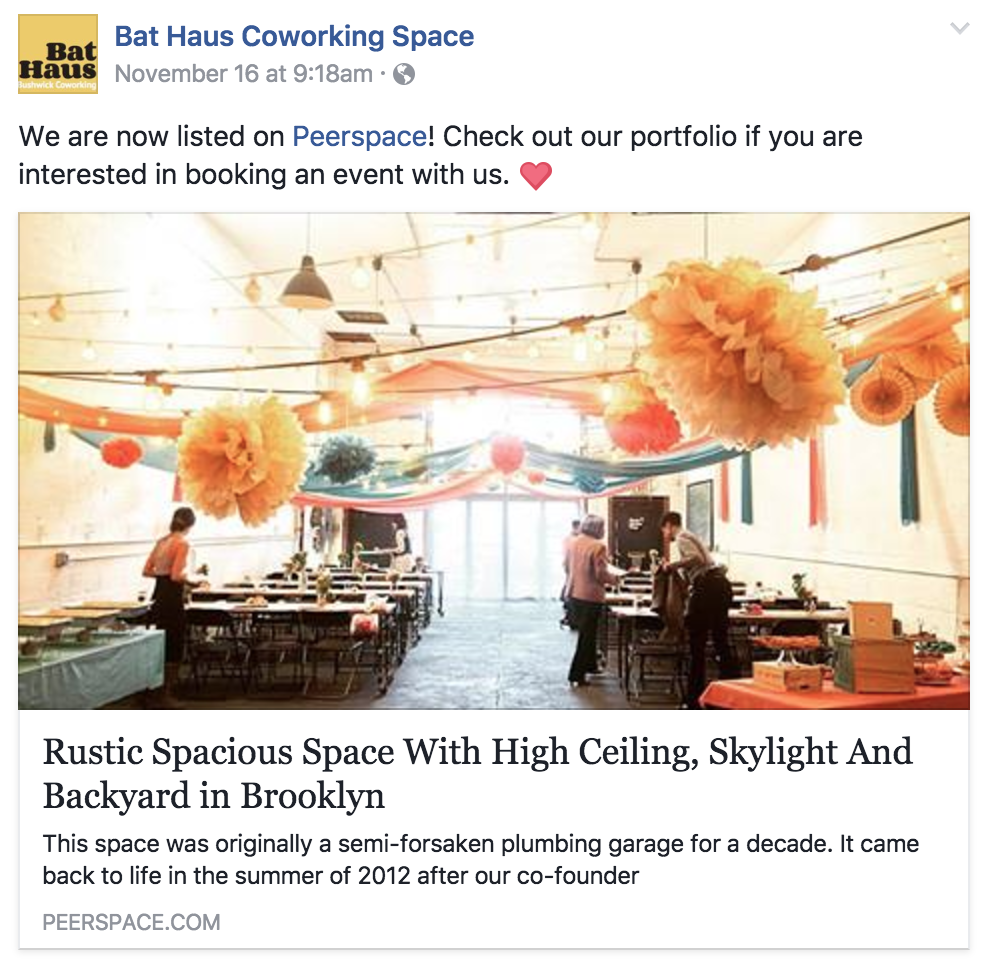 3. Add your listing(s) to your website
If you already have a personal or professional website, that's valuable real estate to utilize. Whether you're driving traffic to your website through your Instagram profile, Linkedin, or Google thanks to effective SEO, it's yet another place to promote your Peerspace listings.
You could add a new tab on your website that explains the kind of event space(s) you offer, include several of your best photos, and link directly to your Peerspace listings with the call to action "book now."
Alternatively, mirroring the example below, you could add an "event space" dropdown link from an existing tab on your site and lead people directly to Peerspace to discover more information there.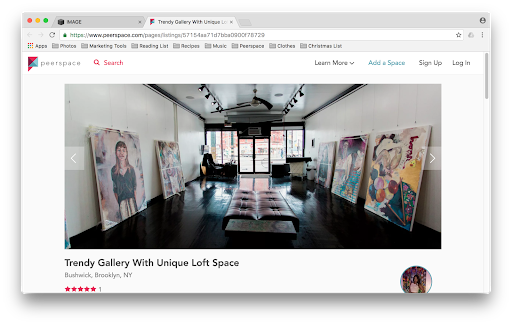 4. Consider email marketing
In addition to incorporating your event spaces into your website, tapping into an existing email network is a great idea. If you already have an established email list, don't be afraid to create a few dedicated emails marketing your Peerspace listings. Be sure to mention the benefits up front in your subject lines: "Check out my Peerspace listing perfect for your next party," "Host your next photo shoot at this airy loft," "Book this space for your small business pop-up."
If you don't have an email system set up, there are plenty of services you can use to customize your email marketing templates, including Mailchimp and SendGrid.
5. Build awareness with influencer marketing and discounts
Another marketing tactic is to consider influencer marketing, which Business Insider reports that 79% of brands use on Instagram as an effective strategy. This entails giving reduced rates to people with large followings in exchange for their promotion of your space to their audience. Influencer marketing can be a great way to grow awareness for your space as soon as you launch so that more bookings hopefully head your way.
An easy way to try out this tactic is to offer a one-time custom rate (via an invite-to-book) to certain guests without broadcasting the special offer to everyone. Simply click "Invite to Book" in a message thread in your Peerspace inbox with the guest you'd like to offer a custom rate.
As an alternative, consider offering everyone discounted rates for short periods of time, and not not just influencers. Following the example below, you can create a limited-time discount (such as 20% or 30% off for the month) and drive traffic from your social channels.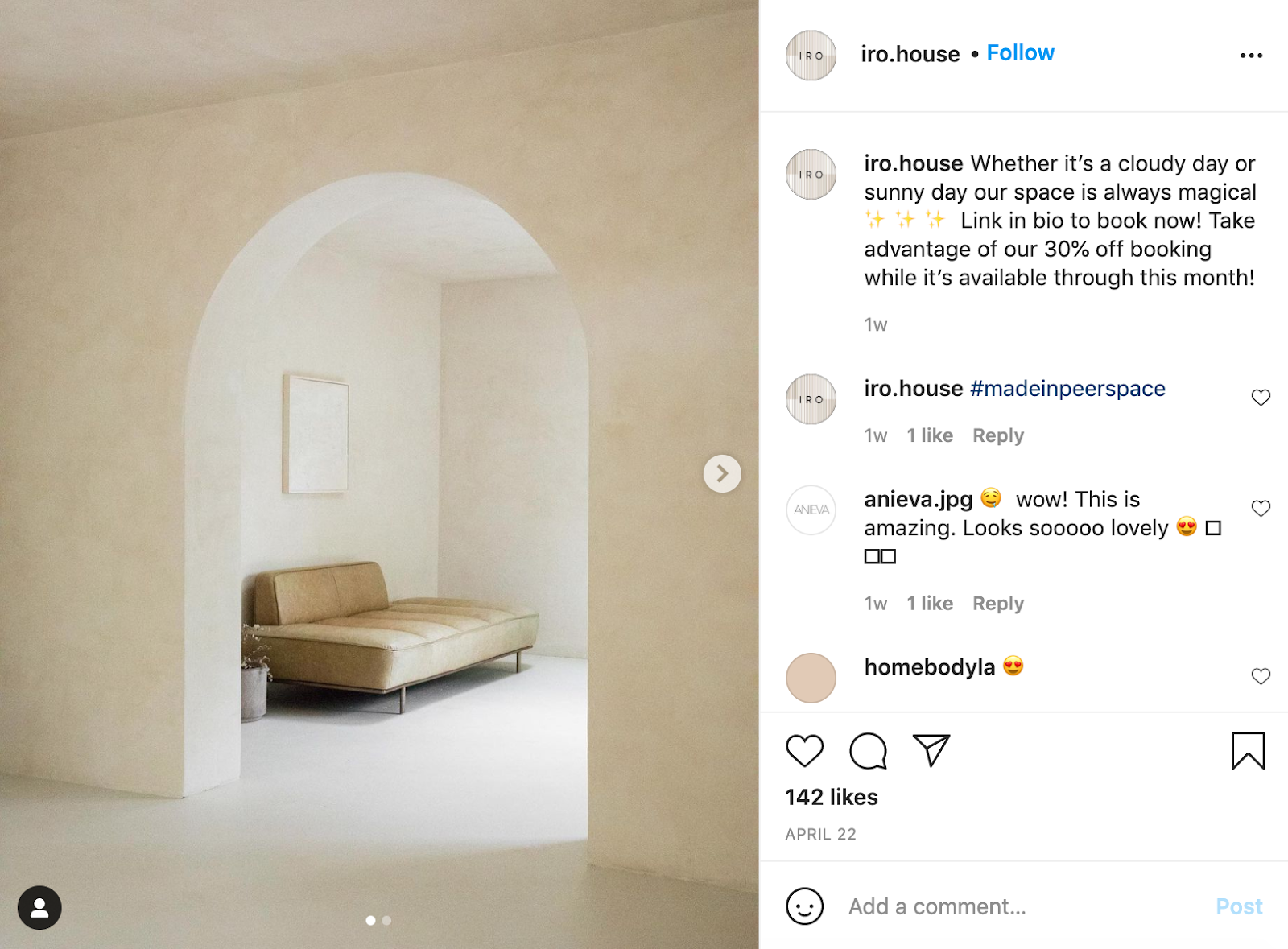 6. Tap into your local community in other creative ways
Finally, there are plenty of free, low-effort ways to continue spreading the word by tapping into your local community.
With its hyper-localized communities, Nextdoor is a great way to connect with your neighborhood and market to an audience who's closeby.
You can also reach out to local vendors who might be interested in partnering with you to help your events come to life, such as florists, caterers, or event planning companies. Try a marketing "swap"—they can promote your listing to their customers, and you can agree to use their services for your next event.
7. Don't forget about word-of-mouth marketing by accumulating reviews
Word-of-mouth marketing might be the most old-fashioned method in the books, but it works. In today's digital landscape, this type of marketing exists mostly in the form of reviews, which are extremely valuable to your business. Most Peerspace Power Hosts can rely on a steady stream of bookings thanks to positive reviews (their average review score is > 4.5), so from day one, remember to encourage your guests to leave reviews.
The word about your space will spread faster after you've received 10+ positive reviews. Think of it as social proof—it's a fact that our purchasing decisions are often based on reviews. While online shopping is not the same as browsing on Peerspace, reviews can have the same effect when people are in search mode looking for the ultimate space to book.